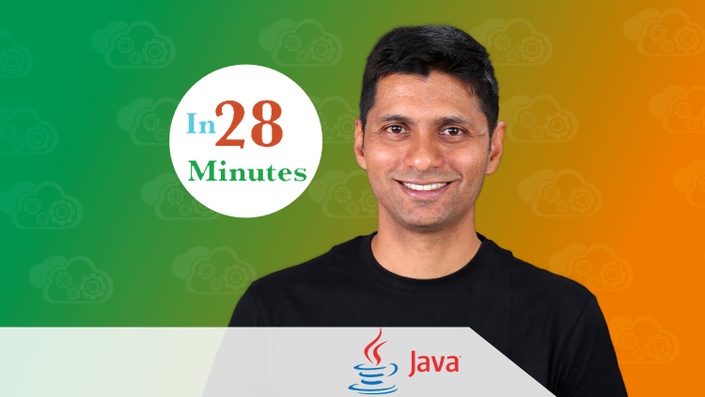 Java Programming for Complete Beginners - Learn in 250 Steps
Start Learning Java Programming Step By Step with 200+ code examples. 250 Amazing Steps For Absolute Java Beginners!
Watch Promo
Zero Java Programming Experience? No Problem.
Do you want to take the first steps to Become a Great Java Programmer? Do you want to Learn Java Step By Step in a Fail Safe in28Minutes Way? Do you want to Learn to Write Great Java Programs?
******* Some Amazing Reviews From Our Learners *******
★★★★★ it's an awesome course , i was a complete beginner and it helped me a lot. One of the best courses i have every taken on Udemy.
★★★★★ This is the best Java course I've come across. It's straight to the point without any missing details. You can get an idea of what you're getting into working with Java fast with this course. I really like it.
★★★★★ The experienece was extremely amazing. The course was highly detailed and comprehensive and all the topic were covered properly with due examples to their credit. The instructor is passionate about what he is doing and hence it makes the course much more worth to learn. Kudos to the instructor for such an amazing job.
★★★★★ Never thought taking an online course will be so helpful. The instructor is quite engaging, gives good amount of exercises.
★★★★★ This course is wonderful! I really enjoy it. It really is for beginners, so it's very helpful for people which don't know nothing about programming.
★★★★★ Very comprehensive and detail course the instructor takes the patience to explain everything and goes a step forward in thinking what kind of errors could happen to the students really good instructor!
★★★★★ It's very well thought out. I enjoy the constant exercises and the challenge they present to make things happen.
******* Course Overview *******
Java is one of the most popular programming languages. Java offers both object oriented and functional programming features.
We take an hands-on approach using a combination of JShell and Eclipse as an IDE to illustrate more than 200 Java Coding Exercises, Puzzles and Code Examples. This course assumes no previous ( beginner ) programming or Java experience. If you've never programmed a computer before, or if you already have experience with another programming language and want to quickly learn Java, this is a perfect course for you.
In more than 250 Steps, we explore the most important Java Programming Language Features
Basics of Java Programming - Expressions, Variables and Printing Output
Java Operators - Java Assignment Operator, Relational and Logical Operators, Short Circuit Operators
Java Conditionals and If Statement
Methods - Parameters, Arguments and Return Values
Object Oriented Programming - Class, Object, State and Behavior
Basics of OOPS - Encapsulation, Abstraction, Inheritance and Polymorphism
Basics about Java Data Types - Casting, Operators and More
Java Built in Classes - BigDecimal, String, Java Wrapper Classes
Conditionals with Java - If Else Statement, Nested If Else, Java Switch Statement, Java Ternary Operator
Loops - For Loop, While Loop in Java, Do While Loop, Break and Continue
Immutablity of Java Wrapper Classes, String and BigDecimal
Java Dates - Introduction to LocalDate, LocalTime and LocalDateTime
Java Array and ArrayList - Java String Arrays, Arrays of Objects, Primitive Data Types, toString and Exceptions
Introduction to Variable Arguments
Basics of Designing a Class - Class, Object, State and Behavior. Deciding State and Constructors.
Understanding Object Composition and Inheritance
Java Abstract Class and Interfaces. Introduction to Polymorphism.
Java Collections - List Interface(ArrayList, LinkedList and Vector), Set Interface (HashSet, LinkedHashSet and TreeSet), Queue Interface (PriorityQueue) and Map Interface (HashMap, HashTable, LinkedHashMap and TreeMap() - Compare, Contrast and Choose
Generics - Why do we need Generics? Restrictions with extends and Generic Methods, WildCards - Upper Bound and Lower Bound.
Functional Programming - Lambda Expression, Stream and Operations on a Stream (Intermediate Operations - Sort, Distinct, Filter, Map and Terminal Operations - max, min, collect to List), Functional Interfaces - Predicate Interface,Consumer Interface, Function Inteface for Mapping, Method References - static and instance methods
Introduction to Threads and MultiThreading - Need for Threads
Implementing Threads - Extending Thread Class and Implementing Runnable Interface
States of a Thread and Communication between Threads
Introduction to Executor Service - Customizing number of Active Threads. Returning a Future, invokeAll and invokeAny
Introduction to Exception Handling - Your Thought Process during Exception Handling. try, catch and finally. Exception Hierarchy - Checked Exceptions vs Unchecked Exceptions. Throwing an Exception. Creating and Throwing a Custom Exception - CurrenciesDoNotMatchException. Try with Resources - New Feature in Java 7.
List files and folders in Directory with Files list method, File walk method and find methods. Read and write from a File.
******* What You Can Expect from Every in28Minutes Course *******
in28Minutes created 20 Best Selling Courses providing Amazing Learning Experiences to 250,000 Learners across the world.
Each of these courses come with
✔ Amazing Hands-on Step By Step Learning Experiences
✔ Real Project Experiences using the Best Tools and Frameworks
✔ Awesome Troubleshooting Guides with 200+ FAQs Answered
✔ Friendly Support in the Q&A section
✔ Free Udemy Certificate of Completion on Completion of Course
✔ 30 Day "No Questions Asked" Money Back Guarantee!
~~~ Here are a Few Reviews on The in28Minutes Way ~~~
★★★★★ Excellent, fabulous. The way he has prepared the material and the way he teaches is really awesome. What an effort .. Thanks a million
★★★★★ A lot of preparation work has taken place from the teacher and this is visible throughout the course.
★★★★★ This guy is fantastic. Really. Wonderful teaching skills, and goes well out of his way to make sure that everything he is doing is fully understood. This is the kind of tutorial that gets me excited to work with a framework that I may otherwise not be.
★★★★★ The best part of it is the hands-on approach which the author maintained throughout the course as he had promised at the beginning of the lecture. He explains the concepts really well and also makes sure that there is not a single line of code you type without understanding what it really does.
★★★★★ I also appreciate the mind and hands approach of teaching something and then having the student apply it. It makes everything a lot clearer for the student and uncovers issues that we will face in our project early.
★★★★★ Amazing course. Explained super difficult concepts (that I have spent hours on the internet finding a good explanation) in under 5 minutes.
Zero risk. 30 day money-back guarantee with every purchase of the course. You have nothing to lose!
Start Learning Now. Hit the Enroll Button!
Your Instructor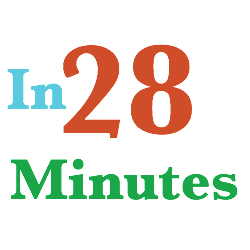 in28Minutes is the world's leading course provider for Spring Framework with more than 100,000 students pursuing our courses on in28Minutes Platform(https://courses.in28minutes.com), Udemy and YouTube.
Brain child of Ranga Karanam, an Architect with 15 Years of Java programming and design with major banking clients across the world, we started in28Minutes with the aim to create Hands-on Courses with Real World Projects.
We use 80-20 Rule. We discuss 20% things used 80% of time in depth. We touch upon other things briefly equipping you with enough knowledge to find out more on your own.
We love open source and therefore, All our code is open source too and available on Github.

Frequently Asked Questions
When does the course start and finish?
The course starts now and never ends! It is a completely self-paced online course - you decide when you start and when you finish.
How long do I have access to the course?
How does lifetime access sound? After enrolling, you have unlimited access to this course for as long as you like - across any and all devices you own.
What if I am unhappy with the course?
We would never want you to be unhappy! If you are unsatisfied with your purchase, contact us in the first 30 days and we will give you a full refund.
This course is closed for enrollment.