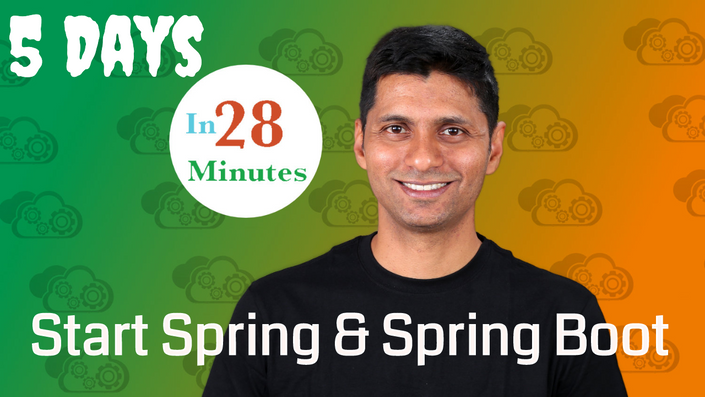 5 Day Learning Challenge - Learn Spring and Spring Boot
Get started with Spring and Spring Boot building a web application and a REST API Step by Step
Watch Promo
Are you finding it difficult to learn Spring Boot?
Imagine building a web application and a REST API with Spring, Spring MVC and Spring Boot Step by Step from Zero.
Imagine understanding the basics of Spring and Spring Boot with practical hands-on examples.
Imagine if you can do this in JUST 5 days!
Get Access to 10 HOURS of Amazing Videos!

START NOW!
What Our 350,000 Learners Say
★★★★★ Excellent, fabulous. The way he has prepared the material and the way he teaches is really awesome. What an effort .. Thanks a million

★★★★★ A lot of preparation work has taken place from the teacher and this is visible throughout the course.

★★★★★ This guy is fantastic. Really. Wonderful teaching skills, and goes well out of his way to make sure that everything he is doing is fully understood. This is the kind of tutorial that gets me excited to work with a framework that I may otherwise not be.

★★★★★ The best part of it is the hands-on approach which the author maintained throughout the course as he had promised at the beginning of the lecture. He explains the concepts really well and also makes sure that there is not a single line of code you type without understanding what it really does.

★★★★★ Amazing course. Explained super difficult concepts (that I have spent hours on the internet finding a good explanation) in under 5 minutes.
We give you a day by day, step by step learning plan.
All you have to do is to invest the most valuable thing - YOUR TIME.
Focus every day. Watch, do and learn from this amazing course.
Do you want to join 300,000+ learners having Amazing Learning Experiences with in28Minutes?
BONUS : You will also learn the basics of JPA, Hibernate, Maven and Unit Testing in 5 days!
Get Access to 10 HOURS of Amazing Videos!
START NOW!
Course Curriculum
Getting Started
Available in days
days after you enroll
Day 2
Available in days
days after you enroll